The distinct "shark fin" or "ski jump" profile of Mt. Albert Edward as seen from various locations in the Comox Valley creates a unique draw to hikers of all experience levels.
Sitting approximately 16km from the Strathcona Park Paradise Meadows trailhead the peak can be hiked in one day by fit and fast hikers, but is generally done as part of a one or two-night excursion.
With well-marked trails and a small elevation gain from the Paradise Meadows trailhead to Circlet Lake, the approach to Mt. Albert Edward is accessible even for novice hikers. Beyond Circlet Lake the rough unmaintained route offers a taste of more challenging backcountry navigation, rugged terrain, and steep inclines. The route also offers more experienced hikers a scenic jumping-off point for more strenuous multi-day routes.
Visitors attempting this route have the opportunity to see beautiful mountain and ocean vistas, delicate alpine wildflowers, and perhaps the endemic Vancouver Island white-tailed ptarmigan, or Vancouver Island marmot.
The ease of access perhaps lulls hikers into complacency. Combine these relaxed attitudes with some of the serious hazards particular to the Albert Edward route, it is no surprise that this is the second busiest hike for search and rescue on Vancouver Island. Please read the information below to help yourself properly prepare for this incredible hike.
Access
Mount Albert Edward is accessed through the Strathcona Park Paradise Meadows trailhead, located adjacent to Mt. Washington's raven lodge.
From either Courtenay or Campbell River, follow the signs on Highway 19 leading to Mt. Washington ski area. 2km after the hairpin corner adjacent to the first chairlift, turn left onto Nordic drive. Follow Nordic drive until you see the large stone Paradise Meadows, Strathcona Park portal sign where parking is available. Conveniently located next to the parking lot is the small Strathcona Park wilderness centre. The wheelchair accessible park information building is operated between May and October by volunteers of the non-profit Strathcona Wilderness Institute.
Camping
Camping is available on this route in one of four designated campsites (one being a backcountry group site). Random camping is not allowed in the area of Strathcona Park between the Paradise Meadows trailhead and the summit of Mount Albert Edwards due to high visitation numbers and sensitivity of the ecosystems.
Camping fees are $10 per adult (age 16 and older) per night, and $5 per child (age 6-15) per night.
Further information can be found at the Strathcona Park webpage.
The Mount Albert Edward trail is located in the Forbidden Plateau area of the park.
Note as of January 2021 the new group site at Croteau Lake does not show on the trail map.
Route Description
Paradise Meadows trailhead to Circlet Lake
The most direct route, past Lake Helen Mackenzie, the ranger cabin, onward to Circlet Lake and the climb up Mount Albert Edward, is approximately 16km one way, making it a 32km return trip. The exact route taken between the Paradise Meadows trailhead and Circlet Lake can be varied.
Paradise Meadows trailhead to Circlet Lake trail network descriptions
From the Paradise Meadows trailhead to the Circlet Lake junction is anywhere between approximately 9.5 and 12km depending on the chosen route. The net change in elevation between the two locations is approximately 120m.
Beyond Circlet Lake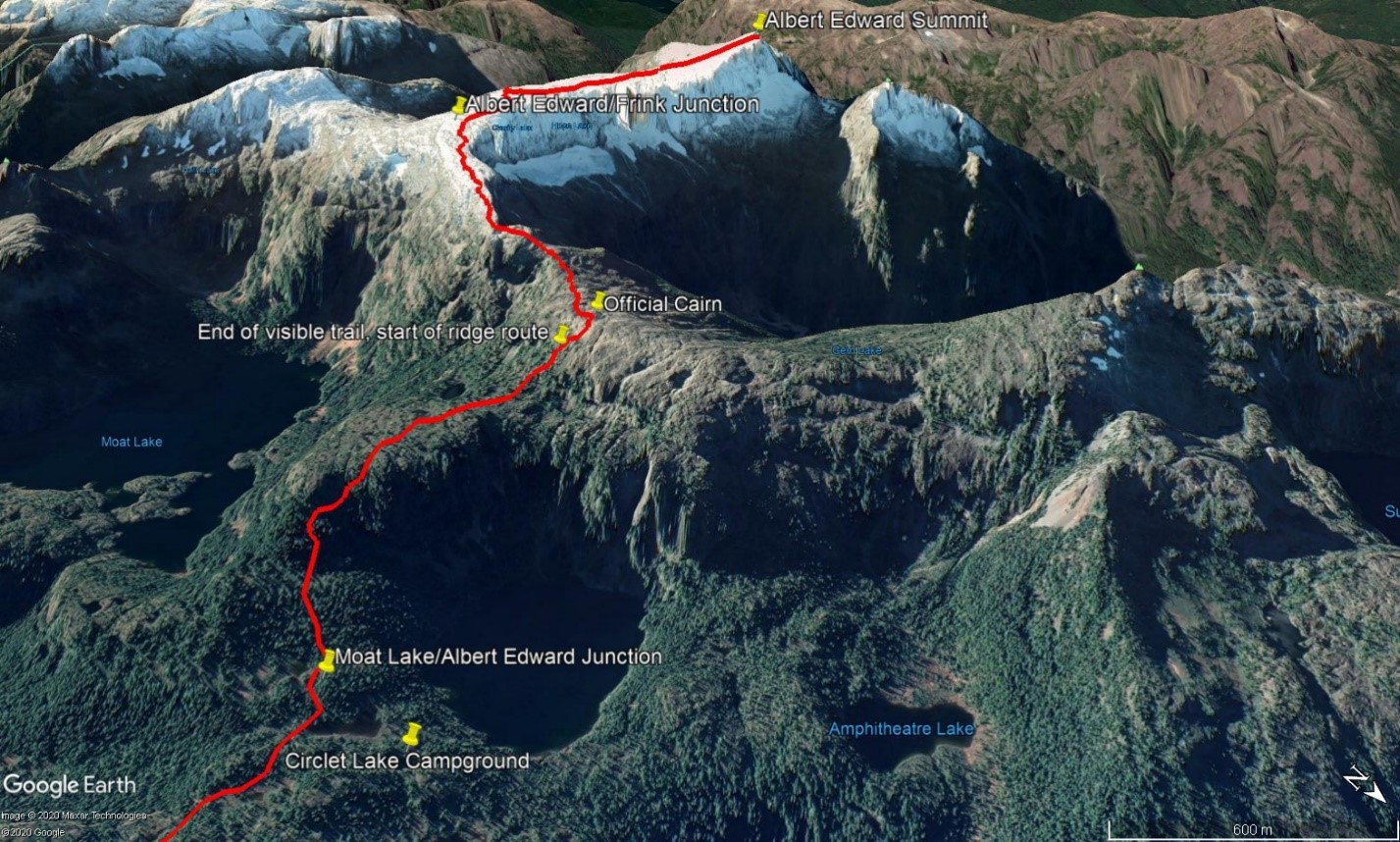 Figure 1: Route from Circlet Lake to summit of Albert Edward showing important locations.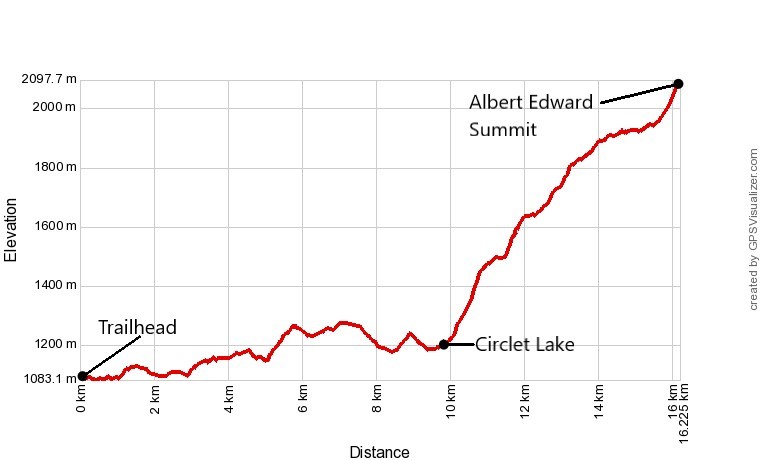 Figure 2: Elevation Profile of Albert Edward hike. Note the change in slope beyond Circlet Lake.
After the Circlet Lake/Mount Albert Edward junction, the trail becomes an unmaintained route, and is much rougher and steeper (Fig. 2). Approximately 2km after this junction the trail climbs into the alpine, where the landscape distinctly transitions from a well vegetated slope to a bare rocky ridge. This means that there is no visible trail tread to assist in navigation.
From here the route follows the alpine ridge up to the peak of Mount Albert Edward, and successful completion of the hike is completely dependent on the navigational ability of the individual hiker. This alpine ridge section of the hike is approximately 4km (1 hour hiking) each way. While this is relatively simple to navigate if weather is clear, it becomes extremely difficult if not impossible as visibility decreases (Fig. 3)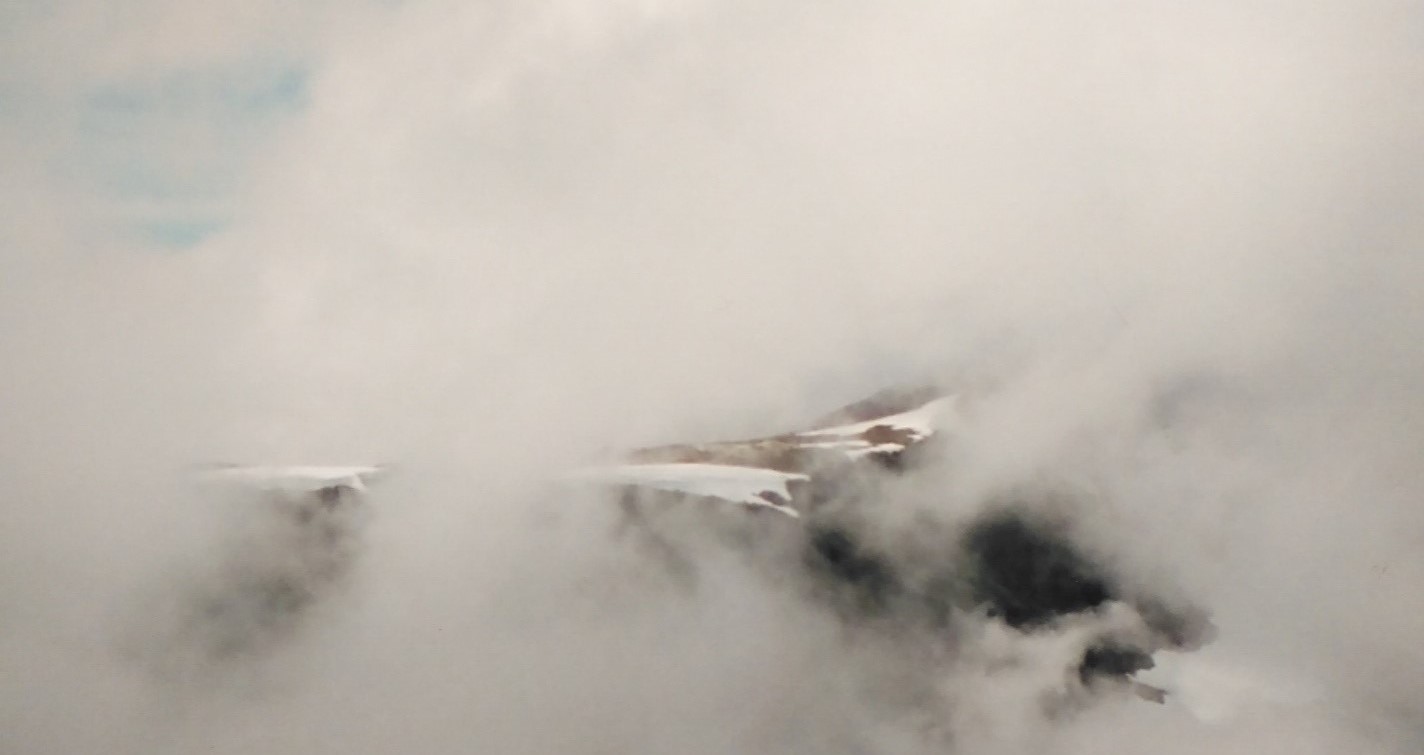 Figure 3: Example of foggy conditions common in the alpine sections of the Mt. Albert Edward hike.
Waymarking posts
Every year multiple people get lost along this trail and must call search and rescue, spend an uncomfortable night out in the elements, or both. The majority of these lost person scenarios are due to hikers missing one critical turn on the trail, dropping off the bare rock alpine ridge back to the visible trail tread that leads eventually to Circlet Lake. See the 'Important Locations' table in the next section for GPS coordinates for these locations. It is important for hikers to find this trail when descending, because there are dangerous cliff bands on the sides of the ridge in almost every other location.
Problems arise here because historically there have been very minimal visual clues to indicate to hikers walking along this featureless ridge where the turnoff is. Combined with a lack of observation from hikers, or a drastic decrease in visibility from clouds or fog, the critical turn is easy to miss.
In 2020, a series of eight-foot-tall aluminium posts were installed with reflective signs and stickers pointing the way back to Circlet Lake (Fig. 4). It is important for all hikers to take note of these posts as they are ascending and return to this point as they are descending. Failure to navigate back to these posts will most likely result in becoming lost or stuck in dangerous terrain.
Important waymarking locations (waypoints are approximate)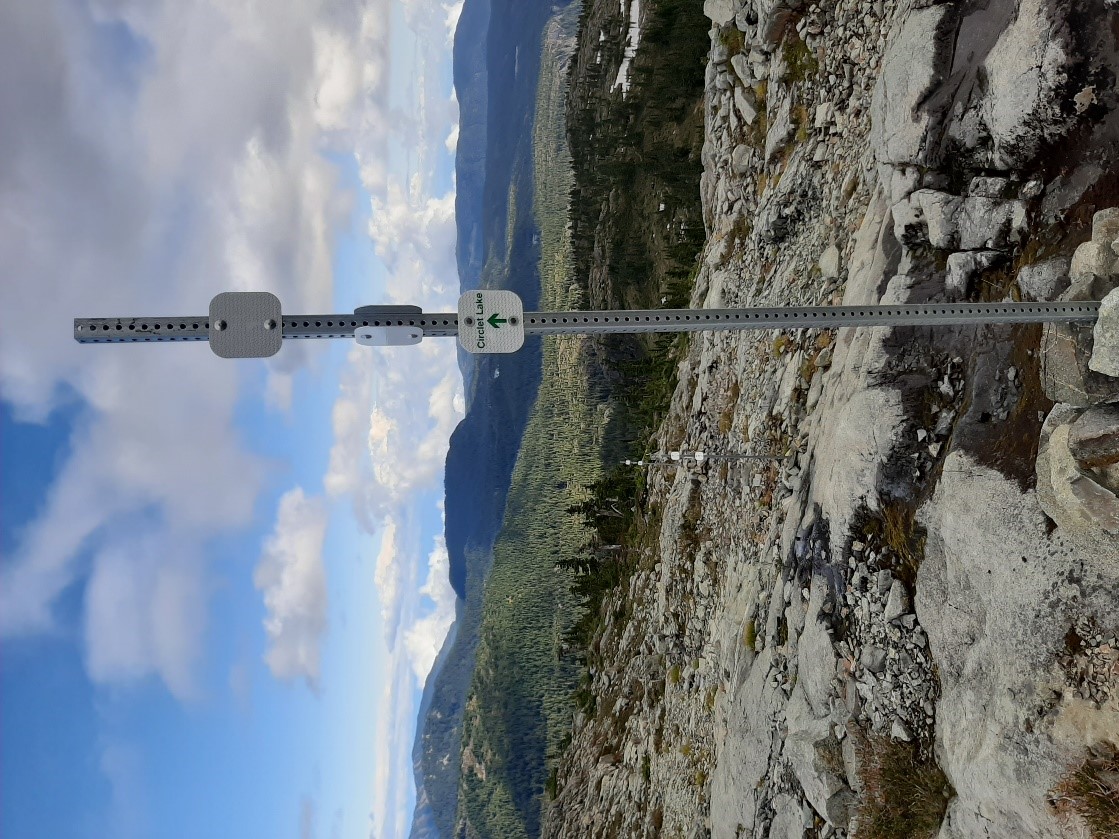 Figure 4: Waymarking posts to lead hikers off the ridge at the critical trail junction that is the only safe way back to Circlet Lake.
Location
UTM coordinates (Zone 10U)
Degrees Minutes Seconds
Circlet Lake campground
0328445
5507703
49°41'50.604"
-125°22'44.364"
Moat Lake trail/Albert Edward route junction
0328588
5507342
49°41'39.0732"
-125°22'36.66"
End of trail tread, start of bare rock route
0327259
5506880
49°41'22.7616"
-125°23'42.209"
Official Cairn
0327059
5506860
49°41'21.9084"
-125°23'52.148"
Albert Edward route/Mt. Frink route junction
0326259
5505180
49°40'26.7276"
-125°24'29.358"
Albert Edward Summit
0324587
5505622
49°40'39.2844"
-125°25'53.422"
Safety
The AdventureSmart website is an excellent resource for safety and trip planning advice.
Thousands of people hike Mount Albert Edward each summer and while the vast majority have a great experience, a handful of these hikers end up lost or injured. Although Mount Albert Edward is an achievable goal for a wide range of skill and fitness levels, it is extremely important for all hikers to be prepared for travel in this challenging alpine environment. Risk and exposure increase significantly between the Circlet Lake junction and the alpine ridge leading to the peak.
Some hazards specific to Mount Albert Edward include the following.
Unpredictable weather
The weather on the alpine section of this route is known to change very quickly. A clear summer day can easily change to dense fog, a cold rainstorm, or even a snowstorm at any point in the summer. This puts unprepared hikers at risk of exposure and of getting lost.
Deceptively long travel time in the alpine
It is approximately 4km from the start of the approach ridge at the official rock cairn to the summit of Mt. Albert Edward. This takes the average hiker approximately 1 hour each way (not including breaks), which is enough time for conditions to change drastically.
Few landmarks
The approach ridge is a long, linear feature with very little in the way of landmarks. As visibility decreases, the ability to navigate by sight alone quickly becomes difficult or impossible.
Hazardous terrain
There is only one way to return to Circlet Lake and the main trail system. The summit approach ridge drops off on both sides to significant cliff bands with no possible route down. The safe route down is now marked on the ridge with aluminium posts (Fig.4).
No cell service
Cell phone service may be unreliable depending on weather and service provider.
No shelter
There are very few opportunities to find shelter (e.g. trees, structures) in the alpine section of this hike. Risk of exposure in poor weather is high.
The video below provided by BC AdventureSmart will help you plan, and prepare, for this challenging route.