British Columbia's backcountry offers extraordinary opportunities for adventure. From day-hikes to canoe trips and mountain-climbing expeditions, the B.C. backcountry has something for every experienced outdoorsperson.
These activities come with inevitable risks, especially in the more remote and rugged wilderness parks. Backcountry areas are also especially sensitive, both ecologically and culturally. Therefore, trips to the backcountry require special care.
'Backcountry' means an area more than 1km away from any highway or park road. Backcountry areas are not accessible by vehicle and have few facilities. Basic amenities like garbage cans and showers are not available.

'Wilderness' means a backcountry area where no facilities or designated campsites are provided. Wilderness camping is only offered in select parks, in select areas.
This page will help you enjoy B.C.'s backcountry while staying safe, protecting the environment, and respecting Indigenous cultural values. It includes a detailed guide to Leave No Trace outdoor ethics. Look here to start learning about:
Rules and rangers

The advice provided here will help you take responsibility for behaving appropriately in backcountry areas. Following these guidelines should ensure you do not break any BC Parks rules or provincial laws.

Park operators and rangers are responsible for implementing rules and laws in BC Parks. If you break the rules or commit an illegal act, they are required to take action. For serious violations, you could be fined.
Training and resources
The resources recommended here will help you develop your backcountry skills, plan a safe trip, and protect sensitive ecosystems. For additional guidance, see the backcountry safety and outdoor ethics sections.
AdventureSmart trip planning tool
When planning any multi-day backcountry adventure, always complete a detailed trip plan and leave a copy with someone you trust. The best and easiest way to make your plan is with the AdventureSmart app.
Backcountry group leader training
Before heading into the backcountry, take 15 minutes to complete our online group leader training. This will give you the confidence required to get more from the outdoors, safely and responsibly.
The Camper's Code
Want to commit to helping us keep BC Parks, clean, green, and peaceful? Take the Camper's Code pledge. The Camper's Code provides clear responsible recreation guidelines and invites you to pledge that you'll do your bit.
Responsible recreation in Garibaldi Park
Garibaldi is a popular backcountry destination with a sensitive alpine environment, abundant wildlife, and challenging conditions. This short video will help you prepare for a safe and responsible trip into the Garibaldi backcountry.
Backcountry safety
For more detailed information on how to keep yourself and other park visitors out of danger, see the staying safe page.
Backcountry areas are, by their nature, rugged and remote. You may encounter extreme and dangerous conditions at any time of year. Even if you are only embarking on a day-hike, stick to all the following guidelines.
Plan carefully
Make a plan appropriate for the skill levels of your whole party. Ensure you have any training you need. Check for information about potential difficulties, including weather, trail conditions, avalanche danger, and low visibility.
Come equipped
Bring the essentials such as navigation aids, a first aid kit, and sunscreen. For wilderness adventures, you should bring extra equipment including a flashlight, an emergency shelter, and a fire-making kit.
For a complete list of essential backcountry gear, please see the AdventureSmart hiking guide.
Be bear aware
When in known bear country, take precautions and watch for signs that bears are in the area. Travel in a group and make noise whenever possible. Carry bear spray and make sure you know how to use it.
Store food, garbage, and other scented items correctly
Your food and garbage can attract bears and other wildlife. Store all foodstuffs, dish cloths, toiletries, and camp stoves in a bear-proof canister. Never leave garbage behind, always pack it out with you.
Drink clean water
It is important to stay hydrated but, in the backcountry, water is typically only available from lakes and streams. All drinking water must be filtered, boiled, or otherwise treated before consumption, for your own safety.
Stay in touch
Many backcountry locations have no cellphone service. Bringing a satellite communication device, such as a personal locator beacon or satellite phone, will allow you to call for help or alert others if you run into trouble.
For more detailed information on how to keep yourself and other park visitors out of danger, see the staying safe page.
Outdoor ethics
To show respect for the natural environment, Indigenous cultures, and other visitors, follow the Leave No Trace practices outlined below. For a more detailed guide to outdoor ethics, visit the Leave No Trace website.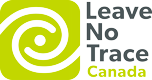 Minimize erosion and impact on plant life
Travel and camp on durable surfaces. Avoid travelling or camping in areas with few or no signs of human impact. Do not interfere with plants. Remember that backcountry ecosystems are often fragile, with short growing seasons.
When camping, pitch your tent at least 30m from water and trails. Try to use existing campsites but do not enlarge them or scrape away leaves or needles. Wear soft-soled shoes around camp and clean up before you leave.
Never contaminate water supplies
When washing up after meals, use warm water and 'elbow grease'. Never use dish soap. Dispose of wastewater over a wide area but well away from any water sources or wetlands.
For personal hygiene, do not bathe or wash directly in natural water sources. Rinse off at least 70m from any water source. Never use soap. Bring salt or baking soda instead of toothpaste.
Leave sites as you find them
When camping, use tent pads wherever available. Do not make changes to your campsite. Never dig trenches, level the ground, or construct furniture. Do not damage trees and plants. Never hammer nails into trees or fix tent lines to trunks.
Ensure that all natural objects remain undisturbed, including rocks, antlers, and fossils. Show respect for Indigenous Peoples and the cultural values of the land. Leave all artefacts where you find them, including pot shards and arrowheads.
Respect wildlife
Observe wildlife from a distance. Do not follow or approach animals. Avoid wildlife areas during sensitive times, such as when animals and birds may be mating, nesting, raising young, or hibernating.
Never feed wildlife as it damages their health, alters natural behaviors, and exposes them to predators and other dangers. Always store your food, food waste and other trash securely and take it with you when you leave.
Be considerate of other visitors
Remember that, just like you, other people come to the backcountry seeking peace and solitude. Respect their experience by talking quietly at your campsite and on the trails.
Do not walk across other people's campsites. Rest just off the trail. Camp away from scenic attractions and water. Please clean up after less thoughtful people who have gone before you.
Dispose of waste properly
Take all trash with you when you when you leave. This includes recyclable items and food waste left over from cooking, eating, and washing up. Strain washing-up water to remove food particles and pack them out.
Bury human waste at least 20cm deep and 70m from any water source. Mix in dirt and cover the hole to disguise it. Human waste that cannot be buried must be carried out. Pack out all toilet paper. Urinate away from vegetation and water.
For a more detailed guide to outdoor ethics, as well as many other resources, please visit the Leave No Trace website.