British Columbia's protected area system is transforming because of climate change. Across the province, we see these changes surface: coastal erosion, shrinking glaciers, and intense wildfire seasons are familiar to all of us. These climate risks are affecting protected areas' cultural, natural, and recreational values and visitation patterns.
For example
Warmer temperatures can extend the camping and hiking season while reducing winter recreation opportunities
Wildfires and flooding reduce access to parks or may result in closed parks
Invasive species can move into new areas
Climates will shift to new areas, meaning that our protected area system will protect a very different array of ecosystems than it has in the past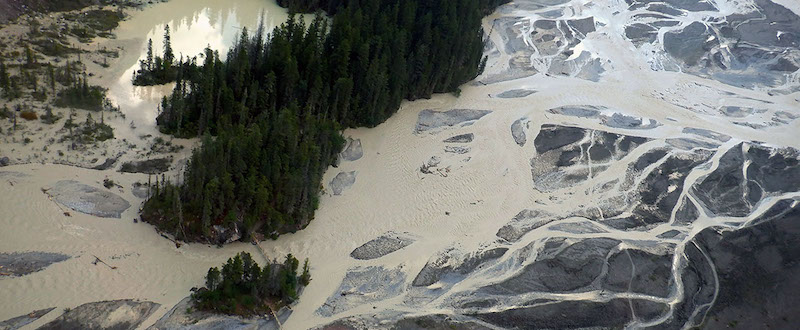 The 2021 heat dome caused higher than normal temperatures in the alpine, which triggered extensive snowmelt from the Robson Glacier in Mount Robson Park. As snowmelt was accelerating, a significant amount of rain fell, leading to high stream flows in the Robson River watershed and major flooding of the Berg Lake Trail.
The opportunity
While climate change poses major risks to B.C.'s protected area system, the system simultaneously plays an important role in helping British Columbia adapt to future uncertainties. Protected areas are considered 'natural solutions' to climate change and they are among a growing suite of tools such as conservation, restoration, and improved land management actions that help improve carbon dynamics, soil productivity, air and water quality, and maintaining biodiversity.
How are parks and protected areas part of the natural solution to climate change? How do they build B.C.'s resilience to climate change?
Protected areas provide ecosystem services
For example, fresh water, water and air pollution control, and carbon sequestration and storage
Protected areas support Indigenous land uses and protect cultural values
Indigenous peoples' in-depth knowledge can offer insights and wisdom into how we prepare and adapt to change
Protected areas support biodiversity
Parks will be vital to supporting the maintenance and recovery of biodiversity in our changing climate
Protected areas are living laboratories
They are benchmarks for change and important to understanding the effects of climate change, pollution, resource extraction, and other stressors
Protected areas contribute to a larger network
Connectivity within and between protected areas is critical as the climate changes to enable species movement
Protected areas are important to mental, physical, and spiritual health
Parks are key areas for people to relax, exercise, and enjoy nature
Protected areas inspire us to take action
People are motivated by B.C.'s incredible park system, and it can give us the knowledge we need to make a difference
What can you do to help?
Visit your local parks
Staying local can reduce your carbon footprint
Green your transportation
Embark on a cycling tour to explore parks in your area and try a fun form of carbon-neutral travel
Participate in community actions that support a clean energy future
Reduce your personal carbon emissions at home
Learn about your personal carbon footprint using calculators such as Carbonzero or Carbon Footprint
Get outside and enjoy nature
Nature makes us healthier and happier, and people are more likely to take care of the things they appreciate and enjoy
Be a citizen scientist
Try one of the many citizen science apps such as iNaturalist and record your nature sightings today
Support the BC Parks Licence Plate Program
Through the sale of more than 250,000 specialty licence plates, the program has now supported over 275 projects related to conservation, Indigenous relations, and community engagement and education.
What is BC Parks doing to address the climate crisis?
BC Parks is integrating climate change considerations into many aspects of its day-to-day business including management planning, policy development, and infrastructure decisions. Collaboration is critical as conservation goals must be integrated across the provincial landscape. Partnerships with other Crown agencies, private landowners, Indigenous governments and stakeholders are critical for ensuring land management decisions are grounded in the best available climate information, including science and traditional knowledge. More specifically, BC Parks is making investments in climate change research, monitoring, restoration, planning, and collaborative, landscape-scale initiatives.
Living Lab Program
Initiated in 2017, the Living Lab Program promotes B.C.'s protected areas as places to learn about the effects of climate change, manage for these effects, and apply this information to management actions. The program encourages research in protected areas through partnerships with academic institutions and their collaborative work with the broader conservation community. More information about the program, recent projects, and how to apply can be accessed from the Living Lab Program webpage.
Monitoring for change
The first step to conserving something is knowing it's there. BC Parks is committed to enhancing our understanding of conservation values through a multi-tiered monitoring approach. BC Parks has several partnerships in development that will shed light on how climate change is impacting park values over time.
iNaturalist Project
Through support from the Living Lab and Licence Plate Programs, and from partners like the BC Parks Foundation, the University of Victoria, and Simon Fraser University, this citizen scientist project is quickly generating tens of thousands of observations about the species that inhabit parks and protected areas. The free, easy-to-use app can help BC Parks monitor threatened and invasive species and has identified several first observations of species records for Canada. Any park visitor can contribute observations, so sign up for a free iNaturalist account and record your nature sightings today.
Long-Term Ecological Monitoring (LTEM) Program
Launched in 2011, the LTEM Program aims to monitor ecological changes occurring across B.C.'s landscape, from the marine and intertidal biome to the alpine and sub-alpine biome. The data that results from 10, 20, and up to 50 years of monitoring will be invaluable for describing trends and rates of change in our very diverse and topographically complex province.
BC Parks Inventory Strategy
BC Parks works with other government partners to conduct detailed ecosystem mapping and species inventory, capturing a better picture of what is being protected and providing a basis for documenting how species shift and change over time.
Working toward a connected system
Species will respond to climate change in different ways and at different rates (by moving, adapting behaviour, or perishing). Environmental change is happening far faster than most life can adapt, so moving with the environment is often the only option. Landscape and watershed connectivity facilitate species dispersal and is a key strategy to support a healthy parks system in a changing climate.
BC Parks is supporting the Cascadia Partner Forum to improve ecosystem resilience in the Cascadia region, which includes identifying priority areas for conservation and developing an adaptation strategy focused on ecosystem resilience. BC Parks is also partnering with UBC to implement a multi-park camera trap network to help monitor change over large landscapes.
Adapting to change
BC Parks is taking into account climate risks such as severe windstorms, wildfires, and sea-level rise, and implementing adaptation measures in many aspects of our protected area management.
Restoration is one important tool to help anticipate and accommodate future change. For example, the Rathtrevor Beach shoreline was restored by removing a deteriorating cement wall in anticipation of sea level rise and restoring the beach ecosystem to increase natural resiliency to erosion and storm activity. Similarly, King George VI Provincial Park was recently restored to a native wetland, returning the ecological and climate services that wetlands provide. And in Tweedsmuir Provincial Park, future climate scenarios were used to determine the optimal location for Whitebark Pine restoration activities.
Planning
BC Parks staff are currently working on how best to incorporate climate considerations into management direction for parks and protected areas. More modern planning documents at BC Parks consider climate projections, identify likely impacts on values and set strategic direction for enhancing climate resilience and ensuring management activities do not worsen the effects of a changing climate.
Additional information
From an ecosystem standpoint, even under mild climate change scenarios, our protected areas will likely be different than what exists today due to historical climates 'disappearing' or shifting away from protected areas. New or novel climates and thus novel ecosystems are also anticipated to emerge, raising questions about species survival and composition into the future. In fact, the climatic zones of B.C.'s protected areas have already shifted from their historical locations. By the 2050s, even under the scenario of moderate global emissions reductions, we expect that almost none of the climates of B.C.'s protected areas will be in their historical locations. And therein lies the challenge: protected area managers must work to minimize the climate risks to protected area values, understand the shifts, and modify day-to-day business and visitor use to accommodate these current uncertainties.
Collaboration is critical to addressing our climate challenges. BC Parks relies on partnerships with academic institutions, communities, Indigenous Nations, and other government agencies to prepare for and adapt to climate risks, and continue protecting ecological, cultural, and recreational values while managing park facilities and infrastructure.
Related links